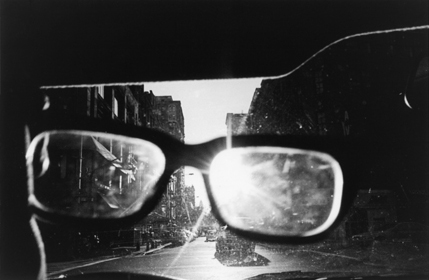 The first misconception people have about David Bradford is that he is a cab driver who picked up a camera one day and started taking pictures. In fact, throughout his early life David had been drawn to the visual and performing arts. As a teenager he studied dance and played the trombone. Later, when injury forced him away from dance, he got into drawing. In 1978, with a degree in Illustration from Rhode Island School of Design, Bradford moved to New York City. He became an art director for Saks Fifth Avenue, serving their advertising department for a decade.

Bradford began freelance illustration and design work after leaving Saks and started driving a taxi in 1990, hoping to find more freedom for independent projects. Soon Bradford was taking photographs from the cab to utilize as reference for his drawings. Then, in 1993, he embraced photography in earnest and began the creation of his personal portrait of the city.

Ten years of shooting the city culminated in the book "Drive-By Shootings," which was published in June of 2000 to critical acclaim and commercial success. It sold out it's first printing of 50,000 within three months, riding the top of the German photo book bestseller list. "Drive by Shootings" is in its second printing, April 2005.

"Back Seat Book" is David's second book published December, 06. This is a more intimate, reflective work borne of the catastrophe that occurred in the city in 2001. A more personal work that captures the breadth of humanity - the whole world of people that can pass through the back seat of a New York City Taxi.

These days David still captures images of the city from behind the wheel, but now he does it with his cell phone video camera. These 15 second movies are often enhanced by incidental music that is captured from the taxi radio at the moment they are shot. No post-production manipulation is ever involved.

More on David Bradford can be found in the book "Drive-By Shootings." The second edition was released in April 2005.



All photography and videos copyright © David Bradford. All rights reserved.